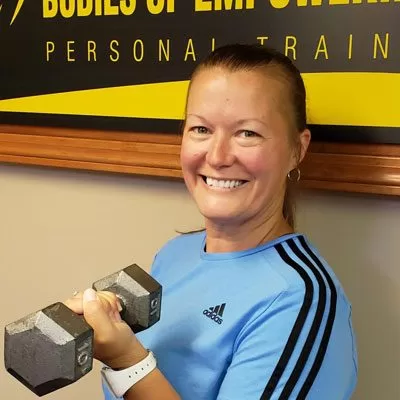 "I've been lucky enough to be able to find a gym that works around my very busy travel schedule, and fortunate to have received Steve as my Personal Trainer. I truly couldn't share enough positive feedback about the challenge, the encouragement, and the overall experience! …the other clients are even amazing! And, although I get to work with Steve every week, I've also been able to work with Nate, Bill and Aron – who all are equally as passionate and invested.
When I found BOE, I was looking for a Trainer that I could be confident in – one that would direct me in my goal, correct any futile efforts, and ensure my success in my path to a healthy lifestyle.
What I actually found were multiple trainers that would not only direct me – but, guide me. Not only correct me – but, teach me. And, not only ensure my success – but, nearly guarantee it with their investment in me.
I haven't just found a really great gym and trainer – I've found a lifestyle, thanks to BOE!"
Joyce