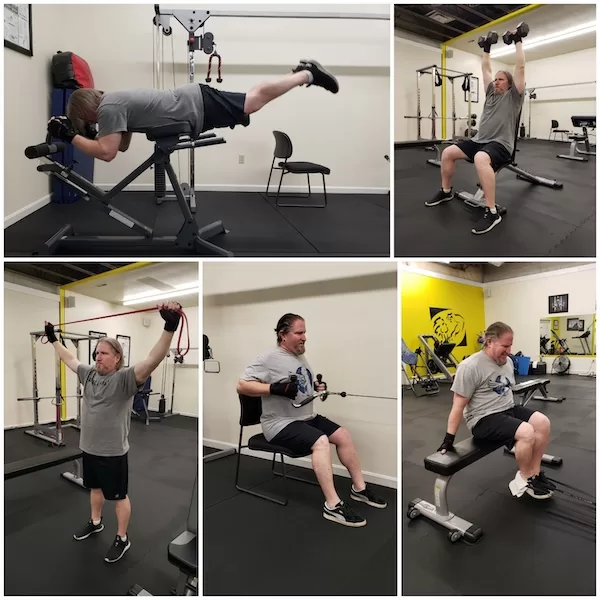 "I discovered Bodies of Empowerment as somewhat of an accident after a regular visit to my doctor resulted in his desire to prescribe me blood pressure medication. After three days of taking it, and feeling just awful from the side effects, I knew there was no way I was going to spend the rest of my life popping one pill or another for whatever ailment was discovered at that next appointment, as my father and grandparents did throughout much of their adult lives. That experience led to the best email I've probably ever sent. I searched for a personal trainer close to home that could help me lose weight and develop habits that would make my fitness and health a priority. What I found was so much more.
So much about success in a fitness atmosphere, at least in my opinion, is finding someone who understands that the entire process is an ongoing conversation. Any 'trainer' can write down a list if exercises and tasks to be performed in the gym and stand there counting reps while you tediously perform them day in and day out ad nauseam. But finding a trainer that listens to your needs, what works for you and what doesn't, and keeps you engaged and interested along your fitness journey is truly a gift.
Bodies of Empowerment offered just that kind of relationship. Both Nate and Steve are present and available to answer all questions and respond in a way that is both informative and motivating. My workouts incorporate a variety of different sets every session, and they are both always willing to show something new to break up the monotony of training if I find my routine getting the least bit stagnant. I can't say enough about the time and effort they put into each of their clients and working toward the individual needs of each.
I've tried a number of gyms in my lifetime and had a couple of different personal trainers along the way. I can honestly say that my experience with Nate and Steve at Bodies of Empowerment has been the most unique and refreshing of any training atmosphere. They have genuinely worked with me to develop a program that works for me, rather than forcing me into some cookie-cutter workout regimen. The results speak for themselves. The experience has been life-changing and the best investment I have ever made in my health and overall well-being."
Jacob