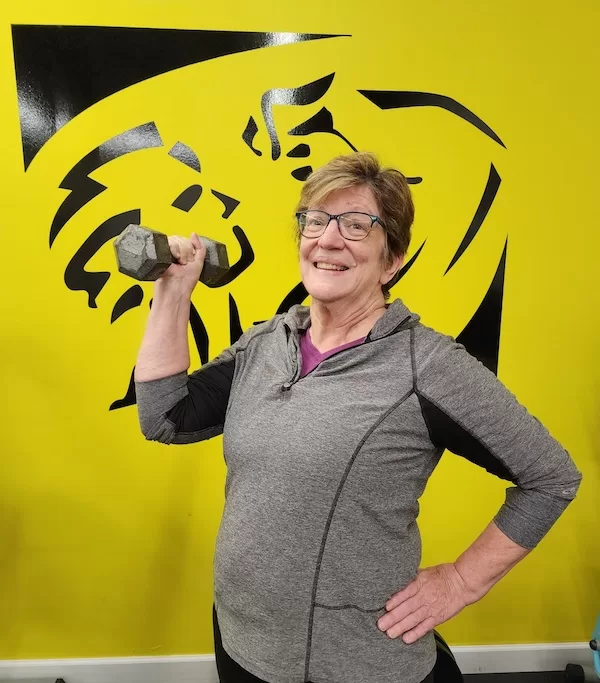 "I retired from my job of 42 years in June 2019. I was obese and my body hurt all over. I didn't like the way I looked or felt. About 6 months later, I decided to do something about my weight and started eating healthier.
I had a bad week at the end of October 2020. The first doctor I saw was a neurologist. She told me that I probably had a disease that would eventually disable me and leave me with dementia. Over subsequent visits, she amended that diagnosis to something worse, a degenerative neuromuscular disease. My outlook wasn't good.
The second doctor I saw that week was a cardiologist and I had a cardiac cath. I ended up with a cardiac stent as I had a blockage in one of my arteries.
This was not how I had envisioned my retirement! I was angry! I refused to be a victim of either diagnosis! I knew I needed to exercise and eat even healthier foods to get on top of these diagnoses.
I approached Nate when I had lost 70+ pounds because I need structure in order to exercise regularly. I didn't enjoy exercise at that point.
When I started at BOE, I was surprised that there was a workout plan just for me, which took into consideration my strengths and weaknesses. Exercises were adapted on the spot if I was unable to do the planned exercise. Both Steve and Nate are very encouraging and knowledgeable in their approach to me and all clients.
I have come to love getting up in the morning and exercising. It's the best part of my day! It gives me so much energy and has smoothed out my mood so that I feel good all of the time.
What I love the most about coming to BOE is the positive attitudes and good vibes in the gym. I love working with Steve and Nate; they have taught me so much about exercise and my body and how the muscles work. I find that I am fascinated by the exercises and learning the muscles that are put into use! I also love watching everyone else's exercises which inspire me to work harder.
Back to that bad week of 10/2020. After working out at BOE for about a year, my cardiologist discharged me from his practice because I hadn't had any more problems with my heart! And my neurologist isn't sure she made the right diagnosis and is reconsidering it because I have improved so much!
My retirement is now back on track! Thanks Nate and Steve!"
Beth