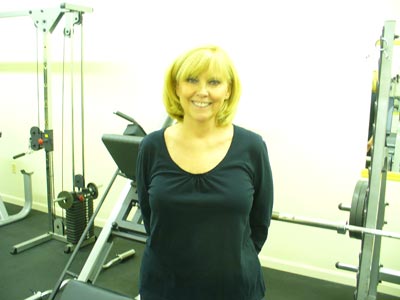 When I started working out with BOE in August I was incredibly weak, tired, overweight and stressed out. My posture had deteriorated to the point that I was bending forward from the waist when I walked. Friends noticed that I was doing that and asked if I was okay. Apparently not. I felt as though I was folding in on myself.
In the beginning they talked to me about nutrition and gave me some menu guidelines. I'm pretty hard-headed so I didn't exactly leave that day thinking I was going to follow the plan. What I was really thinking was that I didn't want to go on a diet. I thought I already ate well and that if I exercised, I would shape up. As it turns out, I like the plan. I like the foods I am eating, and I like eating less but more often. It makes me feel good. My stomach doesn't bother me like it used to, my energy level has skyrocketed, and I have lost 23 lbs!
The workouts have changed my body. I feel more balanced and a whole lot stronger. I can carry the laundry basket without any trouble now. It was that bad. I catch myself walking straight up, and that makes me feel so much younger. I still slump sometimes, but now it hurts when I do instead of being the position that feels the best.
I attended the four classes that they gave on nutrition and found them to be very informative. Then I participated in the Fat Loss Accountability Group which was an eight-week program that just ended. It was a lifesaver during the holidays! We had weekly check-ins where we wrote our food diaries and our weight for the week into e-mails. This kept us from having a food free-for-all with all the holiday goodies. Nate, Josh and Michelle gave menu ideas, nutrition facts and, along with the other participants, offered their support and encouragement.
Bodies of Empowerment has been more than physical training for me. It is nice to be able to get so much from one place, and I am grateful to all the trainers. I know I will keep getting better with their help!
Debbie