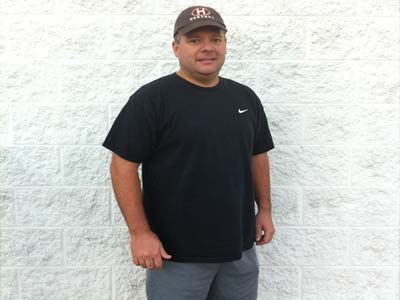 After doing zero exercise in over 10 years, I saw the Bodies of Empowerment sign for personal training on Dudley Road and decided to drag my lazy butt through the door. The fact that I have an appointment to work out is critical for me because it forces me to go when I would otherwise justify doing something else. Working with Nicole has been great – she pushes me harder than I would ever push myself, but the one on one training allows her to have first hand knowledge of what my limits are. She is also very good at teaching me how to exercise correctly to insure that I'm getting the maximum benefit, rather than just going through the motions. I had no idea that technique was so important before.
In addition to the exercise component, the nutrition counseling that Nicole has provided has been extremely beneficial. It took me a couple of weeks to really embrace the change in my diet, but since doing so I have found it to be very easy to stick with. I eat far less than I did before, but I am never hungry.
I've lost 20 lbs to date, but as I have gained muscle and lost fat my clothes fit like I've lost far more than that. I'm committed for the long haul and look forward to breaking the 200 lb threshold for the first time in 10 years.
Joe