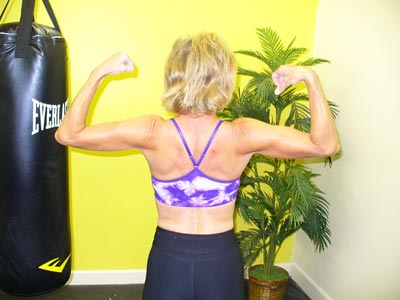 I have always been interested in trying personal training but did not know where to start. Having some old sports related injuries and arthritis, I had some pretty tough criteria for a personal trainer to meet. My cousin, Mark, and friend, Kim, had recommended their trainer, Nate, as my go-to guy. Some of the best advice ever!
Nate has met,and exceeded, my expectations of a great personal trainer. Being a Registered Nurse, I admire and respect his keen knowledge of anatomy and physiology, and nutrition. He worked with me to develop a plan of action suited to my individual needs. He is patient and explains things in ways that are easy to understand. He is also a great motivator, and has pushed me to not only achieve my goals, but to exceed them. Under his guidance I have increased my physical strength, muscle definition, lowered my body fat and increased body muscle. I have been injury free, and the arthritis pain in my neck has actually gone away. In other words, not only does my body look and feel better, my overall health is better too!
"Get the body you always dreamed of!" Thanks, Nate, for taking me from "scrawny" to "buff"!
Betsy